You would like to equip your inventory with labels and are not yet sure which ones fit best to your use case? Below we'll show you our selection.
---
1. PET LABELS
Are firmly adherent and the top layer already has a protective film to provide better resistance to acids, bases, disinfectants and detergents or to weather conditions.
The writing does not smudge or fade.
PET labels can be read by cell phone or industrial scanner by scanning the QR code.
You can choose from different sizes:
PET 10 x 10 mm
10x10 mm labels are particularly well suited for marking very small objects and are a great option should there not be room for another label.

PET 28 x 10 mm
28x10 mm labels are particularly well suited for marking smaller objects and are the perfect alternative to mini labels, on which no object number can be written separately due to space limitations. In addition, their silver coloring makes them look appealing.
There is also the possibility to place your company logo or a desired lettering on the label.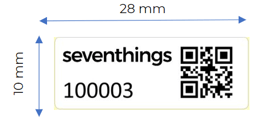 PET 40 x 15 mm
40x15 mm labels are particularly suitable for standard marking of all kinds of inventory (whether table, machine, office swivel chair or laptop). Due to the size of the label, the QR code can be read quickly and easily.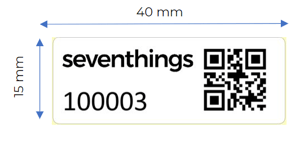 PET room labels 40 x 15 mm
Room labels are used to clearly identify rooms. As part of the inventory process, the labels are placed in the door frames. When scanning the room, the seventhings app automatically recognizes that all subsequently scanned objects are to be assigned to the room. This is based on the room book provided by the customer.
Room labels are an option for those who have many rooms in the directory and do not wish to select them manually from the list of room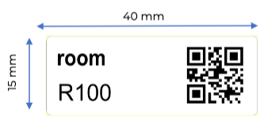 2. RFID LABELS
RFID on furniture 73 x 12,5 mm
These labels are perfect for marking furniture and non-metallic objects.
RFID stands for radio-frequency identification.
These labels contain an antenna that emits over longer ranges. Using special RFID readers, the information can be read from up to 4 meters away.
This eliminates the need to search for labels in locked cabinets or under tables.
The RFID labels also adhere firmly and do not smudge or fade during normal use.

RFID on metal 50 x 22,5 mm
50x22,5 mm RFID on metal labels are perfect for marking metal objects.
Unlike on-furniture labels, on-metal labels contain an additional plastic layer that shields the radio frequency waves from the metal so that readout is possible.
These RFID tags are also firmly adherent and do not smudge or fade during normal use.